About Us
Mojosoft is a software producer for small businesses and medium-size companies, but also for individual customers. For the last five years of constant market presence we have sold more than 20.000 software licenses.
We keep providing our customers with product satisfaction all around the world. Mojosoft's programs are distinctive by the fact that they are user friendly – to use them you don't need long training or special IT skills. We also connect simple, intuitive interface with huge functionality.
Our software works perfectly for both simple and more advanced projects, and is intended to meet the requirements of individual customers, companies and institutions.
Mojosoft software has been regularly awarded and praised by trade web portals and magazines,
such as: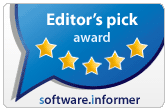 Technical Support
If you have any questions about our programs or activity, do not hesitate to contact us.
We offer free e-mail support to registered users of our products
and offer limited support to those who are evaluating our products.
Please send all technical support inquires to
Support Team
.
Payment and order-related support
If you have any payment or order-related inquiries,
feel free to contact cleverbridge
Customer Support
General information
mojosoft , POLAND
Paproć, Łamana 17
64-300 Nowy Tomysl
VAT ID: PL7881381269

www.photoframestudio.com
www.businesscards-mx.com
www.mojosoft-software.com


---